Home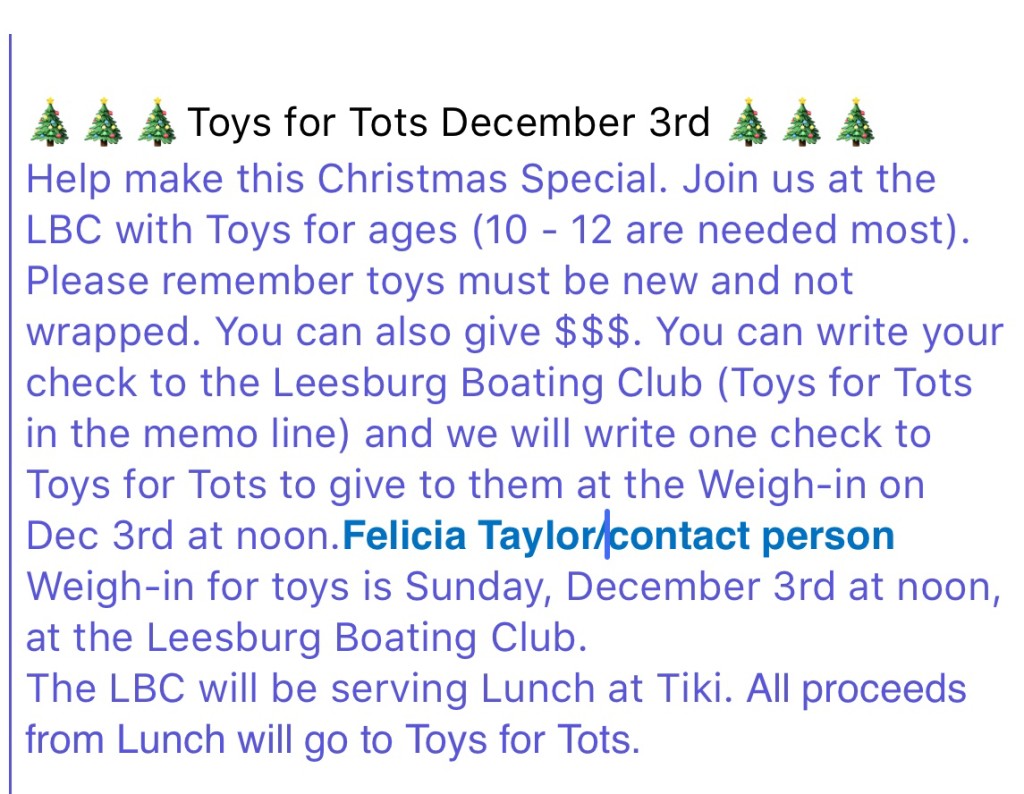 Thanks to everyone who helped on
celebration honoring LBC Veterans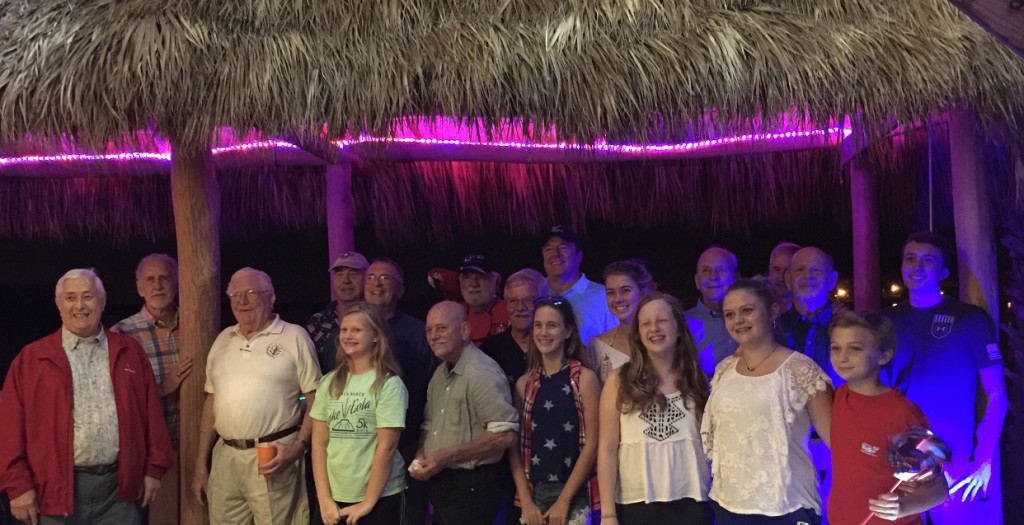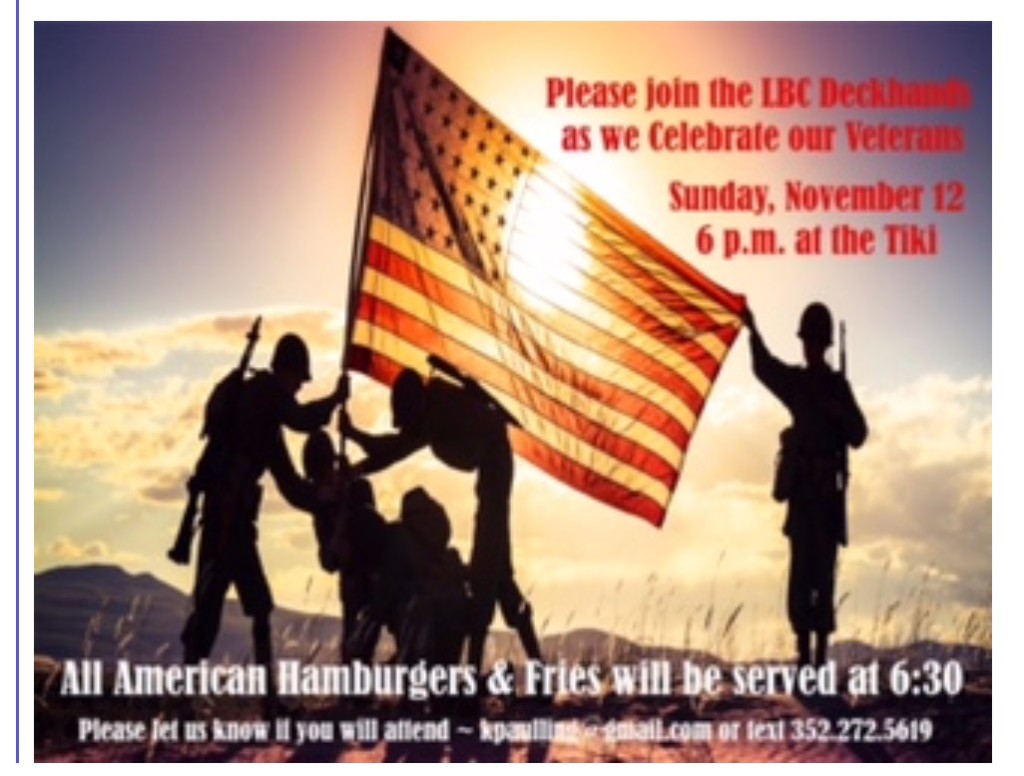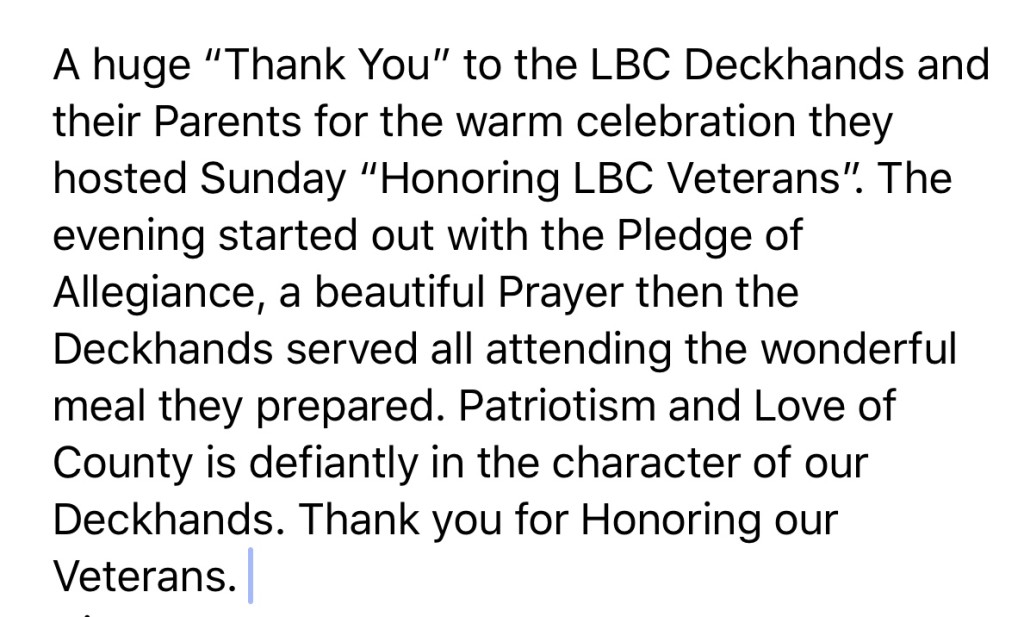 Check out the fishing tournament video.
LBC November Newsletter
The Calendar will be your source for LBC events.
Make a copy and post it on the refrigerator.
***
Welcome to these new LBC Members
Harry & Toni Hawes
Sponsored by Sam & Jackie Williams and Jen & Peggy Herlong
******
Also attached is a copy of the 2017 club improvements that were discussed at the meeting a few months ago.
Fred has updated the list for November so you will know what has been done so far and what is in the future.
******
Fred has put together the 2018 Boating Activity Schedule. Please check it out to make your boating plans for next year.
****
Sunday, November 12 @ 2:00. Cruise-in to JB Boondocks in
Howey-in-the-Hills on Little Lake Harris.
Please reply to this email if you plan to attend.
Fred wants to call the number in to the restaurant on Saturday so they can be prepared
for us and have enough wait staff.
You can also call Fred on Sunday if you make a last minute decision. 352-250-3814.
***
Sunday, November 12th at 6:00
The LBC Deckhands are happy to invite all LBC members and their spouses that are Veterans to a party in your honor.
The LBC Deckhands are children and grandchildren, 18 years and younger, of LBC members.
There is no cost to you as you are guests of the Deckhands.
This is the second annual party they have done for our Vets.
Hamburgers and Fries will be served at 6:30.
In order to order the food you will need to RSVP to Kim Paulling; kpaulling@gmail.com or text her at 352-272-5619.
Those of you who are not Vets but would like to come and support our Vets may attend too.
There will be a donation basket at the TIKI to off-set the cost of the food.
 
Notice: There will not be a Chill & Grill TIKI Time on this date.
***
Thursday, November 16th is Entertainment Night at the Tiki.
Bring an appetizer to share and join your friends for fun and music.
***
It's time to begin planning your decorations for the 2017 Christmas Boat Parade.
The parade is our gift to the community so the more boats the better.
This year it will be held on Sunday, December 3, 2017 the same night as
Light Up Venetian Gardens
If you have questions about the parade phone Fred at 250-3814 or email him at fobrien@gate.net
Chili Dinner starting at 5:30.
Ticket for the Chili Dinner are now available. $5.00 members and $10.00 guests. Children get members price.
Tickets available at Ford Press, Dianne Boyd 787-8916 and at Tiki on Sunday & Thursday nights.
All tickets must be paid in advance. No tickets will be sold at the door.
***
Sunday, December 3rd Toys for Tots Weigh-in At the Tiki.
Lunch served at 11:00 with all proceeds going to Toys for Tots.
Don't forget to drop off your NEW UNWRAPPED TOYS in the box in the TIKI.
Checks can be made out to the Leesburg Boating Club with Toys for Tots in the MEMO line.
One check will be made out to Toys for Tots and be presented when we weigh our toys.
*****
Remember that only members may obtain beer and wine from the Tiki.
If you have guests you will have to get their drinks for them.
This is a liability insurance issue. Don't forget to make your donation to keep the taps flowing!
***
Everything in the Tiki is funded by your donations.
Place your donations for beer & wine in the black box on the wall behind the kegs.
This includes the Deckhand Refrigerator which stores soft drinks & water.
The Donation Box is on the wall behind the Deckhand Refrigerator.
***
A representative from Budweiser cleans our tap lines and adjusts the pressure on the beer kegs weekly as needed.
Please do not touch the gauges on the CO2 tanks.
Thank you.
***
Please refrain from visiting the club/tiki or Pavilion during rentals
Check out the calendar for rental dates.
***
No Smoking in the LBC Clubhouse or Tiki area.
Smoking is allowed on the dock.
This includes e-cigarettes
***
Happy November Birthday to our LBC Members
2nd. Sue Hollingsworth
2nd. Guy Ross
4th. Jim Maddox
5th. Dianne Smith
5th. Dan Robuck III
6th. Kathy Chastain
6th. Tom Jones
6th. Karen O'Brien
7th. Doug Burgham
9th. Susan Hackney
12th. Jennifer Bell
13th. Carol Scarborough
13th. Cricket Morrison
14th. Joyce R. Huey
16th. Alice Coleman
18th. Rhonda Wittman
20th. Pam Donahey
21st. Sharon Wiltjer
22nd. Sue Parsons
22nd. Dan Robuck
23rd. Kevin Paulling
24th. Ray Hamra
25th. Terri Fechtel
26th. Doug Nicol
27th. Howard Hewitt
27th. Jan Hayden
28th. Diane Washburn
29th. Charles Taylor
30th. John Mayfield
Happy November Anniversary to our LBC Members
I do not have the year of your wedding for a lot of our members.
If you would like me to include the number of years you have been married
please reply to this email. Thank you. Karen
1st. Tom & Susan Neal
9th. Woody & Mellissa Brazill will celebrate their 4th. Anniversary.
10th.  Bert & Jennifer Boliek will celebrate their 12th. Anniversary.
11th. Jim & Ruth Ann Byrd-Key
14th. Gus & Lauri Grizzard will celebrate their 25th. Anniversary.
16th. Michael & Kathleen Steepy
17th.  Dan & Iris Robuck
20th. John & Diane Treadway
22nd. Bobby & Rosita Nobles will celebrate their 50th. Anniversary.
26th.  Jim & Barbara Logan
26th. Gary & Deb Tutor will celebrate their 40th. Anniversary.
Happy November Birthday to our Deckhands
The LBC Deckhands are the children and grandchildren 18 years old and under of LBC members.
15th. Jacob Wittman will be 12 years old.
17th Chase Moffitt will be 15 years old.
18th. Bella Morrison will be 14 years old.
25th. Lily Boliek will be 12 years old.
***
Save the Date
Sunday, December 31, 2017 New Year's Eve Party at the LBC
Sunday, January 14 at 2:00. Cruise-in to Hurricane Wings and Grill.
Sunday, January 21, 2018 Fireside Chat at the Tiki
~~~~~~~~~~~~~~~~~~~~~~~~~~~~~~~~~~
Remember to check us out on facebook
and our website www.leesburgboatclub.com
Karen O'Brien
LBC Corresponding Secretary
"In God We Trust"